Cheap DIY Natural Dog Shampoo Recipes and Tips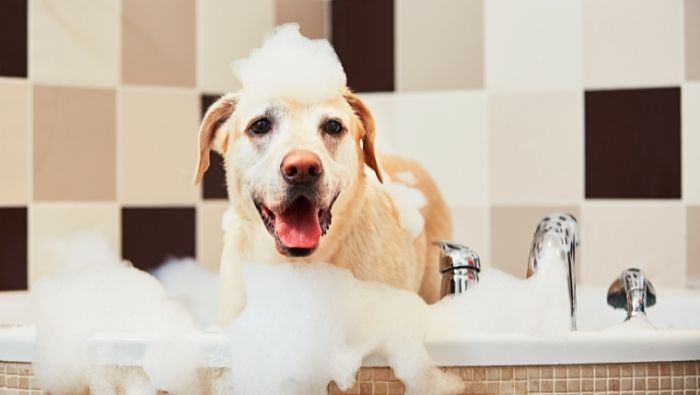 Natural commercial pet shampoos aren't cheap. Try these cheap natural dog shampoo recipes from our frugal readers and keep your pup's coat clean for less.
Dear Dollar Stretcher,
I like to only use natural products on and for my pets, but they can be so expensive. I already make my dog's food. Do any of your readers have any inexpensive recipes for natural dog shampoo?
As far as I know, he does not have any skin sensitivities. Thanks so much!
Rhonda
Let Dawn Help
Many vets recommend shampooing your dogs and puppies (about 3 weeks old and up) with the original Dawn® dishwashing liquid (the blue one). It will kill the fleas better than any flea shampoo without putting harsh chemicals on your dogs. In fact, it is the shampoo many vets use when they take your animals in for flea treatment.
Bri
Love Dr. Bronner's
I use Dr. Bronner's Castile Lavender Liquid Soap to bathe my dog. It has great natural ingredients, and you can use Dr. Bronner's for many other things. Wait until it's on sale and save even more at natural food stores.
Sherry
Start living better for less.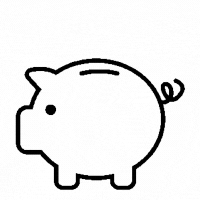 Subscribe to get money-saving content by email that can help you stretch your dollars further.
Twice each week you'll receive articles and tips that can help you free up and keep more of your hard-earned money, even on the tightest of budgets.
Subscribers receive a free copy of our eBook Little Luxuries: 130 Ways to Live Better for Less.
We respect your privacy. Unsubscribe at any time.
A Little Dab Will Do
Although not a natural dog shampoo, this works and is really cheap.
Just use tear free baby shampoo. I bathed my poodle in baby shampoo for years and you just need a little. You don't have to worry about soap burning their eyes and it makes them smell so good! Just a little will make enough lather to clean and a bottle will last a long time.
Hope this helps!
Susan
Gentle Shampoo and Tea Tree Oil
For years, I have bathed my dogs with a gentle human shampoo (I prefer no SLS and paraben) to which I add several drops of tea tree oil. This essential oil kills fleas and ticks on contact among many other beneficial properties.
Please don't use it on cats. They lack the enzyme needed to break down the oil and this can result in a toxic build up in their system.
Stacie
Dog Groomer Shares Secret
As a dog groomer for over 38 years, there was a lot of trial and error with mild shampoos for dogs.
Dr Bronner's Castile Peppermint Soap – It's very economical to use. A tiny bit goes a long way, and it's super gentle and refreshing. Also, it knocks out those darned fleas! (See also: How Much Could You Save With Castile Soap?.)
Dawn® dishwashing liquid – If it's mild enough for wildlife, it's mild enough for our rugged pets.
I have used Palmolive® Original green dishwashing liquid soap for over 30 years. It cleans beautifully, and it kills fleas. Let it sit on for a few minutes and then rinse thoroughly.
Murphy's® Oil Soap – It's awesome on shedding dogs. They smell so clean and come out SO shiny!
If you have a squirmy pet, always put a drop of Mineral oil in each eye to protect them.
With these very reasonable options available, making your own is really not cost effective at all. My favorite is Dr. Bronner's. In-between baths, I put some on a wet washcloth and wipe down my dogs from head to toe. There's no need to rinse. They smell divine and look like they had a full bath. As always, use caution and your own common sense. I have never had a problem with any of these products. If you are going for all natural, Dr. Bronner's is the way to go.
Mickey
Expert Advice on Bathing Dogs
My smooth collie is a therapy dog, and during busy times, she might do two to three visits a week. She is supposed to be bathed within 24 hours of a visit, so that can add up to a lot of baths!
Sometimes I just dilute the shampoo to about a tablespoon in a quart of water and use a puffy scrubby sponge to make sure I get her stomach. Other times I use a tablespoon or two of baking soda completely dissolved in warm water and then added to a quart of water. (I use old plastic water bottles to measure.)
I always follow a shampoo with an apple cider vinegar rinse, using one to two tablespoons in a quart of cool water. It leaves her coat shiny and soft.
Frequent brushing keeps down the dirt and smell between visits. Most dog coats shouldn't be washed more than a few times a year unless there is a medical (or other) reason to wash more often.
Jill