DIY Kitty Condos and Scratching Posts on the Cheap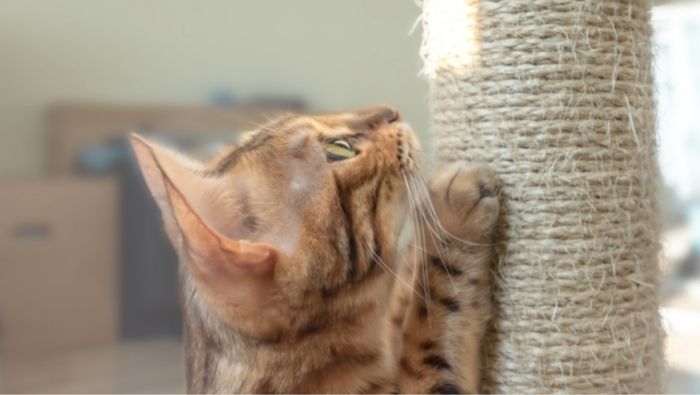 Need a cheap way to keep kitty from scratching up your furniture? Make them a their own kitty condo or scratching post with these DIY ideas.
Dear Dollar Stretcher,
With three kitties and some very nice new furniture, we are in need of some good scratching posts and cat furniture to keep our sanity and household intact. But I am really amazed at the prices of not-very-good kitty condos, scratching posts, etc., at the pet stores.
Any ideas on a do-it-yourself kitty condo? We do have quite a bit of imagination, but would like some info to work from. Thought maybe your readers have already come up with some cheap ways to build these things for their kitties that they could share.
Margaret
A Simple Box Variety
I took an empty cardboard box, taped the top shut, cut a small rectangular hole in one side, and put a towel inside. The cats love the small dark hideaway. I had an old piece of carpet that I duck-taped to the the outside of the box. They use the outside as a scratching post, and the inside as a napping spot.
I put an old 20 lb. weight in the inside of the box, to keep it in place for when the cats scratch on the carpet outside.
JHJ
Start With a Spool
Look at local utility companies or even the town dump for those big wooden spools that they wind utility wires around. Those spools can be covered with inexpensive carpet and stacked up as high as you like, and you can even cut holes in the center of the larger ones to create kitty hideouts.
J.
Start living better for less.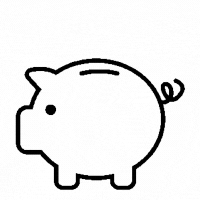 Subscribe to get money-saving content by email that can help you stretch your dollars further.
Twice each week you'll receive articles and tips that can help you free up and keep more of your hard-earned money, even on the tightest of budgets.
Subscribers receive a free copy of our eBook Little Luxuries: 130 Ways to Live Better for Less.
We respect your privacy. Unsubscribe at any time.
The Natural Look
I had seen some incredible kitty condos made of real tree limbs with carpeted platforms for climbing and lounging in a local pet store. Unfortunately, the price was also incredible – $400 for the most elaborate model, which was about 5 feet tall and 3 feet wide. Instead of buying one, my husband and I made a similar one of our own design using four tree limbs we salvaged from my sister's farm with a chain saw, a sheet of 1-inch thick 4'x8′ plywood for the base and platforms, and a scrap length of grey indoor-outdoor carpet I got on sale at the local hardware store.
We bolted the tree limbs (which were about 6 inches in diameter and about 5 feet tall) to the outside edges of a plywood square (3'x3′) for the base. We then used wood screws to attach the plywood platforms where we wanted them between the tree limbs in a sort of spiral staircase pattern so that the cats can walk up the platforms to get to the top. After we had it the way we wanted it to look, we took it all apart and wrapped the base and the platforms in the carpet, attaching the carpet with a staple gun to the underneath side so you can't see it from the top. As the finished condo is quite heavy and bulky, we took it in pieces to its permanent location in our living room and re-attached all the bolts and wood screws there. A friend gave me a small carpeted kitty condo her cat wouldn't use, and we placed this on one of the larger platforms so our cats can hide inside it if they like.
At first our cats were skeptical of it (I think they were overwhelmed by having actual tree limbs in the house), but now they love it! They prefer it over the furniture for scratching, and they enjoy lounging on the platforms so they can look out the window it is near. It has been a big hit and probably cost us less than $20. At Christmas last year, we even decorated it with tiny twinkle lights to put the cats and us in a festive mood. I highly recommend building your own. The cats won't care if it looks lumpy, and they'll love to scratch on the natural wood. Plus, you won't have to spend $400 to get a kitty condo.
Carol C.
An Old Ladder
I painted (non-toxic) a 12′ wooden ladder, wrapped jute rope tightly around the legs (hammering in the ends), covered two boards and a drawer with carpet, attached them, then hung their favorite toys (occasionally sprinkled with catnip) to the ladder.
I am a foster care provider for the Humane Society and house different cats on a weekly basis. They all seem to love their ladder. Just place it somewhere they like, such as near the couch and by the window.
Jill Y. in Boca Raton, FL
Crate Solution
When we got our kitties, my dad made a "condo" by fastening two wooden crates (or boxes) together, cutting out a large hole on the one side (so it was the only "entrance") and then covering them with scraps of carpet (using staples or nails). We had leftover carpet from our new carpet install, but you might be able to get some cheap scraps from a carpet store.
Caroline
Simple Scratching Post
Take a piece of 2×4 and cut it to the size you wish. Cut a piece of carpet remnant and staple to the sides and top of this piece of wood. Make a base for this to be nailed onto and there you have a scratching post.
Sometimes, I rub fresh catnip on it and the kittens love it!
Marijo from New Hampshire
Plywood Model
My wife and I were in the same situation a few years ago. I purchased one of those "kitty condos" and screwed it to a piece of 4-foot squared carpet-covered plywood. To make the new toy more fun for the cats, I cut a 4 foot piece from some tree limbs that had recently fallen. We tied different cat toys from the branches and the cats loved it for months.
Of course, as all cat lovers know, cats get bored easily so it was trashed about a year later.
Another cheap hint, never get rid of boxes. Cats LOVE boxes! They're free and as soon as the cats get bored of them you can toss them.
Jeff and Rhonda W.