The Benefits and How-To of Line Drying Your Clothing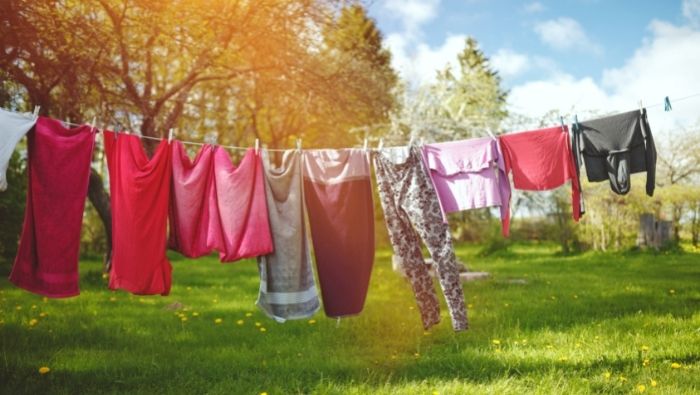 With a simple clothesline, you can save money on the cost of doing laundry as well as reap a few other benefits. Take these steps to get started line drying your laundry.
There must be something great about drying your clothing outside as it seems all of the laundry detergents aim to get that fresh smell in their detergents. I see promises of fragrances filled with the smell of mountain freshness and April showers. What is not to love about that?
Did you know that it is possible to achieve that just by line drying your clothing outside? With a simple clothesline and some clothespins, you can save your family money and achieve the scent that every detergent company is trying to capture.
Are you allowed to hang a clothesline?
If you live in a subdivision, it is important to first check the guidelines of your homeowner's association to make sure that you are allowed to put up a clothesline or if you are even allowed to dry your items outside.
Since many associations are strict and can mandate house colors, drapery, and whether your garage should be open or shut, a clothesline may also be on the list of big no-nos.
Start living better for less.
Subscribe to get money-saving content by email that can help you stretch your dollars further.
Twice each week you'll receive articles and tips that can help you free up and keep more of your hard-earned money, even on the tightest of budgets.
Subscribers receive a free copy of our eBook Little Luxuries: 130 Ways to Live Better for Less.
We respect your privacy. Unsubscribe at any time.
Hanging and maintaining your clothesline
To begin line drying your clothing, you will need a good clothesline.
The most important thing to make sure of is that the clothesline is pulled very taut so the clothing does not cause the line to sag when you hang the clothing.
The only maintenance you will need to do after hanging your clothesline is to make sure that you wipe it down once a month with a damp rag. This way, the line remains clean and doesn't get your clean clothes dirty in the process. I wipe down the line every time I use it, just as assurance to me that my clothes will not get dirty.
Choosing clothespins
You will also need clothespins.
Clothespins come in several different varieties, but I prefer the plastic kind, as they are not hard on your clothing and come in bright colors, making them easier to find for unclipping. I buy my plastic clothespins at the dollar store, over in the laundry section.
Whichever kind you choose, make sure that you keep them in a place where they will stay clean and dry. I have a small plastic tote with a handle that I use to store them in, which helps me keep them in good condition and helps me to find them when I need them.
Properly hanging clothing
The most important element of line drying clothing is hanging things properly. Proper hanging will reduce the amount of ironing you need to do and will maintain the shape and colors of your fabrics.
The basic rule of thumb is to hang the clothing upside down to help avoid stretching in the material where it might be noticeable. Another basic rule is to hang your colored clothing inside out to maintain the color of the clothing. With whites, you will love that bleaching effect of the sun, but you don't want this to occur with your colored items.
Before you hang your items, be sure to first shake out the wrinkles in the fabric. I give each item a shake until I hear it snap. Once you hear snapping, you will see the wrinkles begin to loosen from the fabric. Pin the item up on the line and smooth it out with your hand. These small steps will save you a lot of ironing time and I will do anything I can to get out of ironing!
Shirts and socks can be hung upside down, to insure that you will not have noticeable clothespin marks. Jeans and towels should be folded in half over the line and then pinned once. Halfway through, you can flip these items and dry them on the other side.
There are items that can be a bit trickier to hang, but are easy once you know how. Sheets, for example, can be folded hem to hem. You will then fold three to four inches of one hem over the line and in at both ends. Pin the corners of the other hem a few inches inside the first two. The sheet should then open towards the wind so it will blow like a sail, assuring you of even drying.
I have never been brave enough to hang my unmentionables out on the line, but I figure that I am saving money by putting the items that take longer to dry on the line and the rest of these items can go in the dryer for a quick tumble. If you are braver than me, however, you can create a wall of clothing on each side and then place your undergarments in the center, making it difficult for the neighbors to see your items.
Avoiding stiff clothing
If you find the items to be stiff when dried on the line, you can throw them in the dryer for a quick tumble.
I use the touch-up setting on our dryer to loosen any wrinkling and to make sure the clothes are still nice and soft.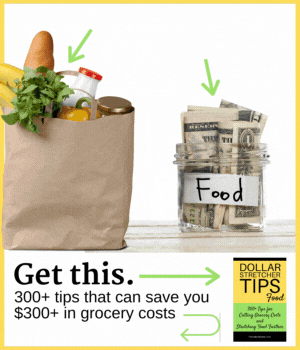 How a clothesline can benefit you and your budget
There are many great benefits to utilizing a clothesline.
One of the best benefits of line drying your clothes is that they will last much longer than they would if they were just thrown in the dryer. Did you ever think about how much lint is in your dryer when you are done drying it? That is actually all of the worn-away fabric that would have remained on your garments if you had line dried them. Zippers cause snagging on clothing when tossed in the dryer, but when line dried, your garments will remain intact. (See 9 Ways to Extend the Life of Clothing.)
The other added benefit is that you save yourself some dough in the process.
Did you know that electric dryers are often among the top energy-users in a home, followed by refrigerators, lighting and water heaters? Not only will you save on your electricity bill, but you can also save on laundry products. The sun is a natural whitener, so no need to buy any bleach. Static cling is created by clothing rubbing together, but if your clothing is hung out to dry, it is not necessary to buy any dryer sheets.
I hope this article offers some helpful tips for saving your family money and enjoying the truly wonderful benefits of line drying your clothing!
About the Author
Amy Allen Clark is a stay-at-home mother of two wonderful children. She is founder and creator of MomAdvice.com. Her website is geared towards mothers who are seeking advice on staying organized, living on a budget, and that are seeking work-at-home employment. The author resides in Granger, Indiana and her hobbies include reading, writing, and cooking.