Almond Oil: A Natural Budget-Friendly Toiletry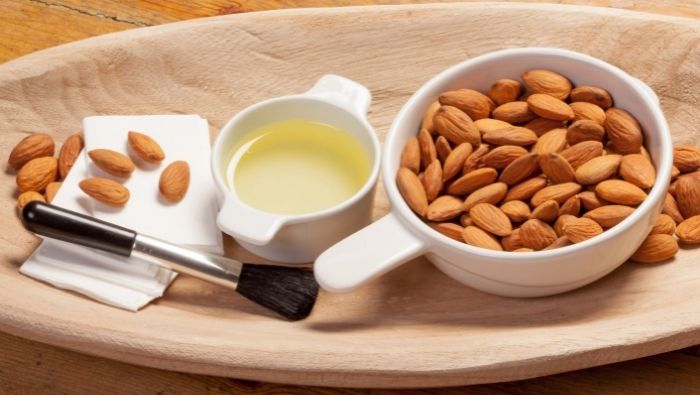 Did you know almond oil has uses outside of the kitchen? Here are seven ways you can substitute this natural product for many of your pricey toiletries.
Shopping for new health and beauty products can be exciting, but it is often stressful for the budget-conscious shopper. The well-known brands as well as the organic and natural beauty products are luxuries that can burn a hole through any budget.
Without succumbing to the low quality, low price products, there is a natural, affordable solution to stocking your makeup bag.
Almond oil is a budget-friendly substitution to many of the most common beauty products. Not only is it a fair price, but also it is a high-quality product with numerous health benefits.
1. Almond Oil as a Makeup Remover 
A mark of good quality makeup is that it won't run or drip down your face; however, when it comes to removing that smudge-proof, kiss-proof, un-smearable makeup, you may need the help of a makeup remover.
Unfortunately, good quality makeup removers can be an expensive addition to your beauty bag, costing you $3 and up per ounce. Purchase the 32 oz. bottle of almond oil and each ounce will cost you $0.52; savings like that can put more money back into your makeup budget.
2. Almond Oil as a Facial Cleanser
Are facial cleansers a beauty necessity? On one hand, exfoliated skin is smoother, brighter, and visibly less plagued by blackheads. On the other hand, facial scrubs and cleansers are another thing you have to buy each month.
While some of Olay's foaming cleaners retail at big box stores for a fair price, far more cleaners, especially ones that target acne, cost much more. Once again, almond oil is a suitable replacement.
Wait! Use oil to clean your face?
No, it's not a trick; sweet almond oil really can clean your face. The oil does not clog pores; in fact, because it's so light in texture, it actually cleans out your pores and loosens any dirt. Thanks to a healthy dose of Vitamin A, almond oil works to help prevent acne flare-ups.
Start living better for less.
Subscribe to get money-saving content by email that can help you stretch your dollars further.
Twice each week you'll receive articles and tips that can help you free up and keep more of your hard-earned money, even on the tightest of budgets.
Subscribers receive a free copy of our eBook Little Luxuries: 130 Ways to Live Better for Less.
We respect your privacy. Unsubscribe at any time.
3. Almond Oil as an Anti-Aging Moisturizer
Anti-aging creams are some of the most expensive beauty products in the market, especially ones free from parabens and other potentially carcinogenic ingredients.
Almond oil is nature's own anti-aging oil. Almond oil is rich in vitamin E, a powerful antioxidant which helps repair damaged collagen. Repairing collagen restores smooth, supple skin.
Once again, almond oil is $0.52/oz. while the most hydrating lotions cost $6.00/oz.
4. Almond Oil as an After-Shave Moisturizer
Many lotions and creams are marketed as after-shave moisturizers. However, these specialty creams often come with high price tags.
Even worse, for sensitive skinned users, some lotions with fragrances can irritate skin, which makes moisturizing legs after shaving a painful experience.
Almond oil not only can replace the moisturizer, but it also can help to heal the skin from any shaving irritations. You'll pay $0.52/oz. compared to the average $4/oz. for women's after-shave.
5. Almond Oil as a Deep Hair Conditioner
Explore Pinterest and you'll discover a plethora of DIY deep hair conditioning treatments. Many of those recipes use almond oil.
Deep conditioning treatments at a salon start around $50 per treatment.
6. Almond Oil as Eczema Relief
As any eczema sufferer can attest, finding a moisturizer that doesn't sting, irritate, or enflame already-tender skin is worth its weight in gold. Lucky for them, almond oil is a mild, lightweight oil that's easy on the budget.
Some prescription ointments cost $100 per tube and even then it is a two-week supply.
7. Almond Oil as a Diaper Rash Preventative Cream
In an effort to prevent diaper rashes, many parents use products like A+D to create a barrier to keep out moisture. At a little more than $1.00/oz., A+D isn't the most expensive but can easily be replaced by almond oil. As an added bonus, almond oil is cloth diaper-safe.
Adding almond oil to your beauty routine is a smart way to stretch your budget while eliminating a plethora of toxins from your medicine cabinet. If nothing else, you'll have divinely soft legs.