A Merry Christmas from a Distance
You can still have a happy holiday this year and make loved ones feel loved despite COVID! Here are 5 ways to celebrate Christmas with family and friends and spread some holiday cheer without the worry of spreading anything else!
Christmas is here! So is coronavirus. While most of us dream of a white Christmas shared with family and friends, COVID-19 is still keeping our loved ones away from us.
Don't let that dampen your Christmas cheer. Here are 5 affordable ways to have a Merry Christmas from a distance with both family and friends:
1. Give gifts of love.
'Tis the season for gifting. We all know that holiday gifting can tighten your purse strings if you're not mindful. So let's look at some mindful, yet creative, gifting tactics!
Travel enthusiasts would appreciate a virtual trip. You can collect links for various museums, sights and other attractions. Go all out and find some small items on eBay to send along as souvenirs.
Many of us have scaled back on attending events due to COVID-19. Receiving early-bird concert tickets or event tickets can be a way to help a loved one think about a future after COVID.
A gift such as childcare is a great way to allow your loved ones to escape their boring daily routines, but not practical during COVID. However, you can offer long-distance childcare by conducting online language, music, art or even cooking lessons for the kids. Your loved ones will be grateful for the skills their little ones learn from you.
Start living better for less.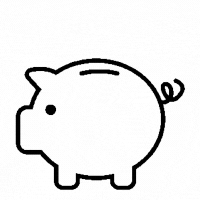 Subscribe to get money-saving content by email that can help you stretch your dollars further.
Twice each week you'll receive articles and tips that can help you free up and keep more of your hard-earned money, even on the tightest of budgets.
Subscribers receive a free copy of our eBook Little Luxuries: 130 Ways to Live Better for Less.
We respect your privacy. Unsubscribe at any time.
2. Cook together but separate.
It's not Christmas if the house isn't smelling of yummy treats. And a lavish feast is the bedrock of a memorable Christmas celebration. This year, find creative ways to build special food memories.
You might be in separate homes, but it doesn't mean you can't cook together. Pick recipes that all households enjoy and have everyone join in on a video chat while cooking your holiday feasts together. As a gift, you could even send loved ones the ingredients required to make that one favorite dish. This will surely feel far more intimate than cooking in isolation.
If cooking seems too daunting a task for everyone, you could send homemade baked cookies or order them a surprise meal. Restaurant delivery services can be ordered from out of state. Spread the Christmas cheer and let them know you're thinking of them even if you can't be with them.
3. Add to the season some fun competing.
A little healthy competition goes a long way in building bonds. Gather your friends and family over calls or texts and get competing. Almost anything can be turned into a competition.
You could compete over something as routine as gift wrapping or outdoor decorations, or something as elaborate as gingerbread house decorating. Snap and share photos and may the most creative competitor win.
You could have a photo scavenger hunt during which selfies have to be taken beside an agreed-upon list of Christmas-y things, such as a manger, an angel, a wreath, or even a Santa hat. Make an extensive list and see who takes the most selfies by Christmas day.
4. Spend quality time together, apart.
Did you know that quality time is a common love language for many? There are many ways to connect without being face to face, and generally all you need is a phone, tablet or laptop and an internet connection.
Simply giving your loved ones some undivided attention is the easiest way to feel closer and more connected to them, especially if you do things that you are sure they will enjoy. For instance, if you share an enthusiasm for DIY projects, spend some time planning your next joint creative endeavor. Or, if you're both movie buffs, enjoy watching Christmas movies together. You don't need to be in the same state to watch the same movie on Netflix or Amazon. Hook up by phone as you both watch your favorite holiday flick.
If you prefer a family sing-along, belt out some Christmas karaoke over Skype while sipping on a glass of wine.
5. Party from afar.
Party with your loved ones from afar by throwing a virtual game night with fun games like Christmas bingo, charades, Pictionary, Christmas movie trivia, or playing 20 questions while everyone sips on their favorite drink. These fun Christmas party themes will surely take your winter celebration to the next level.
If you wish to throw the best holiday bash on the block this year, it's going to need a lot more than the usual arrangements. Overcome the challenges COVID-19 has brought on by hosting an ice skating party or inviting your friends for a contactless cookie exchange party while taking all the necessary safety precautions.
With just a few of these ideas, you can make your loved ones feel even more loved this holiday season even while being apart. And if you ever feel sad thinking about how far they are, just remember that distance is supposed to make the heart grow fonder!
About the Author
Elizabeth Mathew is a freelance writer and blogger. When she's not writing complex legal documents, this Contracts Attorney is daydreaming of all the ways she could be saving $2 tomorrow. Connect with her on LinkedIn.