Budget-Friendly DIY Outdoor Play Structures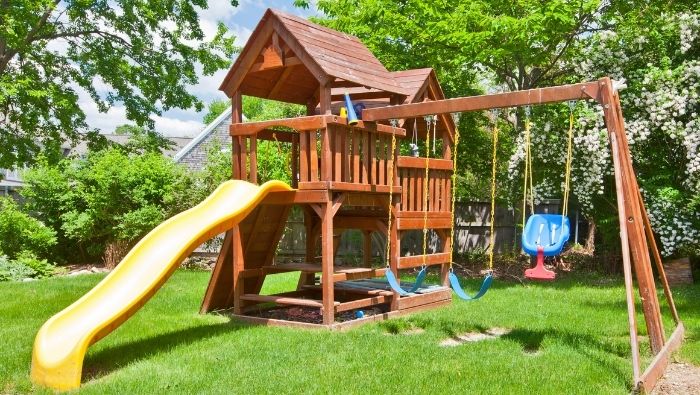 Those play structures you find in the stores certainly aren't budget friendly for many families. Consider these affordable DIY outdoor play structure ideas from our frugal readers instead.
Dear Dollar Stretcher,
My husband and I are in the market for a wooden play structure, but do not want to pay thousands of dollars for one!
My husband is quite handy and I have heard that there are kits and/or plans for outdoor play structures that you can buy to do it yourself. Have any of your readers found any budget-friendly ways to build an outdoor play structure using these kits/plans?
BJV
Cheaper to Buy Used Play Structures
We were in the market for a play structure last year. My husband is an excellent woodworker and I am an architect. We thought that we could easily design and build a play structure for less money than the ready made ones. In researching the cost of materials and the time involved (we have two small children), it became apparent that even when building one ourselves, we were not going to save that much money.
Quality materials (redwood, cedar, etc.) are surprisingly expensive. Then I started checking the local paper (the "Bargain News"). Many people sell their structures after a few years because their kids outgrow them or they are moving and it is too much trouble to move. We ended up getting a play structure that was only two years old for about 1/4 of the cost of a new one. And the best part was that the only labor involved was disassembling and reassembling it at our house.
One note is that if you see an ad, call immediately. There is a lot of competition for a good quality play structure at a great price!
Sue W.
Start living better for less.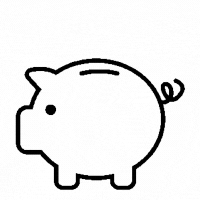 Subscribe to get money-saving content by email that can help you stretch your dollars further.
Twice each week you'll receive articles and tips that can help you free up and keep more of your hard-earned money, even on the tightest of budgets.
Subscribers receive a free copy of our eBook Little Luxuries: 130 Ways to Live Better for Less.
We respect your privacy. Unsubscribe at any time.
A Free Play Structure Source
Another idea (how we got ours) is to contact landscaping firms in your area. They are asked to remove many swing sets and play structures when the owners' kids have outgrown them.
We passed up ten or fifteen "regular" swing sets (weight limit is usually only 60 pounds) and finally got a heavy-duty park structure that had to be replaced. We took pictures of how it looked before taking it apart, and then assembled it in our yard.
We have had it up for over ten years and with six children. It has been wonderful!
Cyndi K.
Play Structure Soft Landing
Two and one half years ago, my family was in the same position that you describe. In addition to not wanting to spend thousands of dollars, we also chose not to have treated wood for our son to play on. (There is evidence that heavy metals, including arsenic, are leached from the wood.) It was difficult to find an affordable set that would offer us natural cedar or redwood (the most rot resistant materials). We looked at books from the library and online about building your own. We found the information helpful, but were daunted by the idea of planning a set from scratch. Then we found that many lumber yards and home centers offer kits from "Swing & Slide".
These include detailed plans, material lists, and all the hardware such as swings, bolts, etc. We picked out one we liked, added a couple of additional components to it and built it ourselves out of cedar. We have two regular swings, a baby swing, a pair of rings, a "fort", a slide, and a teeny merry-go-round (very simple). It took us about two weeks to build it. The instructions were clear and the material lists were accurate. We had one faulty piece of hardware and the company replaced it quickly.
It's also very important to consider what will go under the playset. It is critical for safety to have a soft groundcover underneath. Grass or concrete are not appropriate. We use wood chips at least 9″ deep under ours. We have gotten two truckloads of chips free from tree maintenance companies. They are happy to give the stuff away, but you must be flexible with your timing. They generally wait until they are working in your area. I called one company and they called months later to tell me that the truck would be here the next day. The other load I got from a company that I saw cutting a tree down on my street. They gladly dumped their load of chips in my yard when their job was completed. (See Cheap and Free Sources of Landscaping Materials.)
Building that set was a wonderful family project! Enjoy!
JS in Yorktown Heights, NY
Home Center Play Structure Kit
The best thing that I found was at the local Home Depot store. They sell kits that come with the lumber sheet (amount of lumber to buy and how to cut it), plans, brackets, carriage bolts, canopy, hangers for swings and even a couple of simple swings and rings. There are several styles to choose from, from simple to extravagant. You can also combine different kits together to make larger setups. These can be done in sections if wanted.
Besides the kit, you have to purchase the lumber, screws, basic tools (drill, hammer, saw, etc.) and accessories wanted (slide, merry-go-round, child swings, rope walls, etc.). The kit instructions are pretty precise, with very little waste on lumber cuts. You can do all the cuts ahead of time. It took my brother-in-law and me about 10-12 hours from the first cut to completion. There is even a video that can be purchased to help with the installation. It is a good investment, even if you are very engineering and mechanically inclined.
The whole kit, lumber, accessories and all cost me under $700.00. The kit included a merry-go-round, slide, fort and swings. I already had the child swing, so I saved there, but I did purchase a two-seater swing to add. A comparable kit from one of the major retailers of these products would have cost close to $2,500. This is a great savings! Of course, the more accessories you add, the more expensive it gets, but the ratio stays about the same on savings.
Michael B.