Struggling to Afford a Newer Car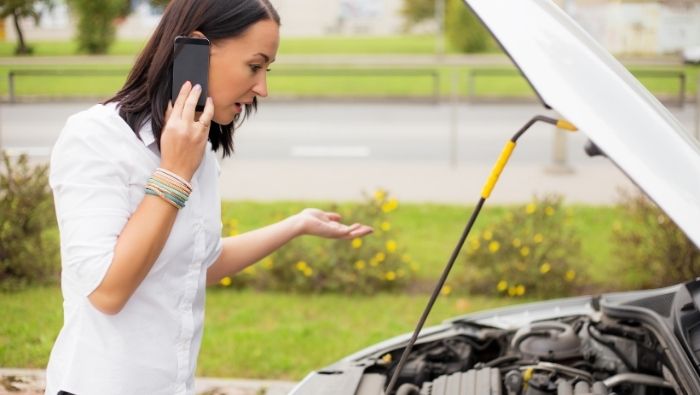 If your credit history is a problem, it can be hard to get financing for a car purchase. Read on to find out what steps you can take to make sure you have reliable wheels if your current ride has seen better days.
Dear Dollar Stretcher,
About a year ago, my husband and I (and our 4 children) hit a financial low. We began a credit counseling program and began paying off our debts.
Now our second car is in desperate need of replacement. How can we get a car that is a few years old and use our old car as a trade in? We will need to finance the car. Is this a possibility? Or will we just have to save for a couple of years until we can pay cash? Currently we pay cash for everything, but this would be a rather large expense.
Thanks for your help.
Melanie
Melanie asks a good question. When you're working to repay debts and rebuild your credit score, what do you do when you need to make a major purchase? Is that even possible? And, if it is possible, is it a good idea?
There are a couple of possibilities. Some are better suited to a specific family's needs than others. Let's take a look at the options available to Melanie.
Determine your credit score
First, as she already knows, her credit score will affect whether a loan is possible, and if it is possible, how much it will cost. She will need to know what her current score is.
Be up front about your credit score
Melanie will want to visit various car dealers. When the talk turns to financing, she'll need to be honest about the situation. She should share her credit score. Some will automatically turn her down. Others may have some available financing for troubled borrowers.
She needs to make it clear that she doesn't want them to check her credit until she gives them approval. It's not that she's hiding anything. But that could be considered a 'hard inquiry' and cause her credit score to go down further. Especially if a large number of dealers check her score. Many dealers would routinely check even though they would automatically reject her because of her low score. So there's no need for them to check her report.
Shopping this way will take some time. Melanie is not only looking for a dependable used car at a reasonable price. She's also shopping for someone to lend her money at a good rate. And getting a good rate could save her more money than getting a good deal on the car.
As a general rule, she'll probably have more success if she uses the used car lot of a new car dealership. They should have more cars and more financing options available than a small used car only lot.
Sign up for a daily dose of dollar stretching.
Subscribe to get money-saving content by email each day aimed at helping you live better for less, get better with money, and fix your finances so you can achieve financial independence.
Since one of the biggest hurdles to achieving financial independence is debt, subscribers get a copy of Do You Have Too Much Debt? A Checklist and Solutions for FREE!
We respect your privacy. Unsubscribe at any time.
Consider financing away from the dealership
What about finding financing away from the dealer?
Melanie might be tempted to borrow against the equity in her home or to take a 401k loan. Neither are probably a good idea. A home loan could potentially put her home at risk. And a 401k loan will affect what she has available when she's ready to retire.
Checking with her bank and/or credit union before she goes car shopping would be a good idea. It costs nothing but a little time and could prove to save many dollars.
Is borrowing money a wise financial option for you at this time?
There's another aspect that Melanie needs to consider before buying a newer car. A purchase would require borrowing money. Are they ready to go down that path again without getting into trouble? When you borrow, you commit to payments. As she's already discovered, sometimes keeping up with them is painful.
Let's take a closer look at what financing looks like. Because Melanie has four kids, we selected a two year-old Dodge Grand Caravan as an example. Not because we think it's the best van available, but because it's a popular model. A search found an example for sale at $15,477.
Bankrate.com has an auto loan calculator. Used auto loans are going for about 3.5%. But Melanie and her spouse won't get that rate. Because of their low credit score, they'll pay a higher rate. How high will depend on many things. The size of their down payment will matter. How good a job they've done over the last two years keeping their other bills current will matter, too.
But, let's suppose that Melanie did borrow $15,000 and was able to get 10% financing. On a 48 month note  she'd pay $380 per month. And remember that's on a two year-old car. Yes, she'd have a warranty for repairs. But for a family struggling to regain their financial footing, that could be a huge bill if someone lost a job or there were any other big unexpected bills.
Is repairing your current car a better option?
Another possibility that Melanie seriously needs to consider is keeping her current car. Could she repair and refurbish it if she put the money that's planned for payments into scheduled repairs?
Melanie doesn't say what's wrong with her car now. But let's suppose that she needs $1,000 in repairs. That's less than 3 payments on a newer ride. What if she planned on putting some money into her current car on a regular basis? If she spent $200 per month, she would have $2,400 a year to spend on repairs and still be $2,160 ahead of making car payments!
As a general rule, the cheapest car to own is the one that's already in your driveway. If you believe that you're facing major repairs, have a qualified mechanic check out the car. They can tell you what things need attention and how much you can expect to spend on repairs. Don't use a dealer mechanic. They're usually more expensive and they also have an interest in pushing you to buy one of the dealer's cars.
Most of us buy a car for two reasons. First, we want dependable transportation. But, we also buy so that we can feel good. The old car has lost status in our eyes. Every minor problem is seen as yet another reason to buy a new one.
Recently I heard that the quickest way for your car to depreciate is to see a friend's new car on Facebook. Before Melanie spends thousands of dollars and commits to years of payments, she might want to consider whether repairing the old car wouldn't be a better choice for her family.
Get better with money.
Subscribe to get a daily dose of money-saving content aimed at helping you get better with money, fix your finances, and live better for less.
Since one of the biggest hurdles to achieving financial independence is debt, subscribers get a copy of Do You Have Too Much Debt? A Checklist and Solutions for FREE!
We respect your privacy. Unsubscribe at any time.