Insider Report: Finding An Honest Auto Mechanic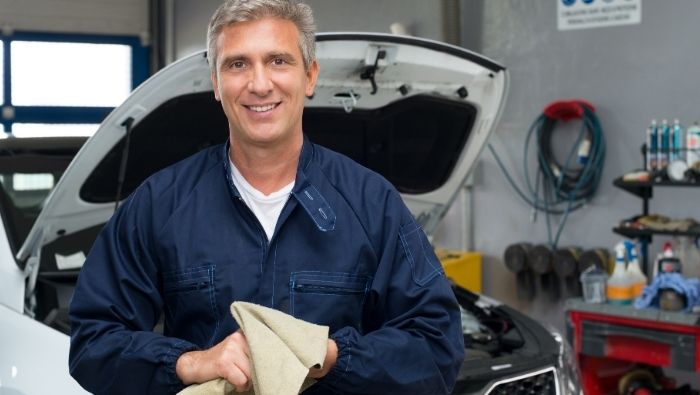 Would you like to find a mechanic you can trust with both your car and your wallet? A mechanic shares his insider tips for finding an honest auto mechanic.
Looking for a good mechanic? As a mechanic myself, I have a few tips:
The job is dirty, but…
A greasy mechanic is not necessarily a bad thing. A greasy waiting area on the other hand does not bode well.
No mechanic these days can work without service information.
Ask to see their manuals. A computerized manual system they are proud to show you (with a dirty keyboard of course) is a good sign!
No mechanic can work without tools.
Do they have a good assortment and are they in good shape? Hard for the layman to tell, but if the fancy tools are covered in dust and dirty coveralls, this is not a good sign. Every inch of shop space should be clean and all tools you see should look like they can be used in an instant.
Are the mechanics happy?
There's nothing better than a happy worker and nothing worse than a malcontent looking to sabotage a business.
Start living better for less.
Subscribe to get money-saving content by email that can help you stretch your dollars further.
Twice each week you'll receive articles and tips that can help you free up and keep more of your hard-earned money, even on the tightest of budgets.
Subscribers receive a free copy of our eBook Little Luxuries: 130 Ways to Live Better for Less.
We respect your privacy. Unsubscribe at any time.
Don't underestimate dealer training.
If the diagnosis is uncertain at the corner garage, and the estimate is scary, try the dealer. They know the car inside out.
How are you treated?
Do the staff seem genuinely interested in serving you? This one is tricky because the counter person doesn't do the fixing, but a poor hire on the counter is one sign of poor management.
You won't always get an estimate right away.
Sure you want to get a written estimate, but just as doctors must sometimes do exploratory surgery, mechanics must go step by step. The possibilities are endless and a reasonable response to some queries on price are "We can't be certain on the total cost but here are the steps we will take and this is how much each step will cost. We will call for authorization over x amount, and we expect, but cannot promise that the bill will be under x amount."
As well, decisions must be made and the mechanic, while the technical expert, is not you the customer. One example is a flat tire.
How much will it cost to fix the flat?
$10 if it is a simple puncture that can be plugged
$12 if the tire is removed from the rim and patched
$21 if the leak is irreparable and a tube has to be installed
$125 if the tire is structurally damaged and has to be replaced
$250 if the best solution is replacing the pair and using the inflated old tire as spare.
Something as simple as a flat and an "accurate" estimate is impossible. As a customer, I want choices. Educate me in simple terms, so I can make an informed decision about how to best fill my needs and wants in either the short or long term and I am a happy camper.
About the Author
Art Gale is a professional mechanic with a shop on Little Cayman island.